Natchez-based drummer, harmonica player and vocalist Hezekiah Early was born on October 7, 1934 on a farm in the community of Anna's Bottom, located about a dozen miles north of Natchez adjacent to the Mississippi River. Some of first music that Early heard as a young man was that of local fife and drum groups, which consisted of a fife player, two snare drums, and a bass player. His father, Wilson, played fife, and Early learned to play all the instruments himself. He continued playing in such bands until 1970, and says that he would like to revive the tradition.
http://www.arts.state.ms.us/folklife/artist.php?dirname=early_hezekiah
×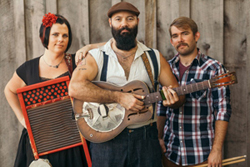 Southern Indiana-bred singer-guitarist Reverend Peyton is the bigger-than-life frontman of Reverend Peyton's Big Damn Band. He has earned a reputation as both a singularly compelling performer and a persuasive evangelist for the rootsy country blues styles that captured his imagination early in life and inspired him and his band to make pilgrimages to Clarksdale, Mississippi to study under such blues masters as T-Model Ford, Robert Belfour and David "Honeyboy" Edwards.
×
BIG GEORGE BROCK... Bigger-than-life, legendary 78-year-old Clarksdale-raised blues harmonica player, singer and band leader who has shared stage or studio with everyone from Muddy Waters, Jimmy Reed and Howlin Wolf to Watermelon Slim, Jimbo Mathus and Steven Seagal. Multi-Blues Music Award nominee who has played festival stages from Chicago to Clarksdale, the UK to France... and beyond! Recorded three acclaimed CDs for the Cat Head Presents label; starred in the film-festival-favorite documentary film "Hard Times; recorded hit "M for Mississippi" theme song for the award-winning film of the same name.
https://www.youtube.com/watch?v=AEgkQ8JBj6I
×
Louis Arzo Youngblood, aka "Gearshifter," is a Jackson-based guitarist and vocalist who performs a unique blend of country blues, modern soul-blues, and everything in between.
http://www.arts.ms.gov/folklife/artist.php?dirname=youngblood_louis
×
The Mississippi based Multi-instrumentalist combines the Tribal Rhythms and raw electrifying power of the Hill Country Blues with melodic songwriting wisdom of heroes Bob Marley, Sam Cooke, Hank Williams, Bob Dylan, and Jimi Hendrix. MALCOLM fuses elements of Funk, Soul, Rock, Reggae, Hip Hop, West African World Beat, Gospel and Country to create an Authentic Signature sound in modern day World Roots Music.
https://www.lightninmalcolm.com
×
Baptized in the fire water of Clarksdale, MS., Sean "Bad" Apple began his spiritual journey of learning the blues by seeking out the old blues musicians that were willing to share their years of knowledge. Sean is working hard to keep Hill Country Blues alive and well. People are always in for a good show and never leave disappointed when the Bad Apple is on the stage
×
Lucious Spiller Blues Band
×